Well, more accurately it should be Dancing "In" Limbo….because that is pretty much where I have been since it became clear that I was not going to be one of the individuals that had marked improvement in their hearing as a result of this gene therapy trial….and there were some.
Admittedly, I've had a bit more disappointment , …and maybe envy…than I thought I would. Told myself that since it was the first human trial it would be a long shot at best. And it was. But it turns out I really wanted it to be my silver bullet. And it wasn't.
Regarding the trial, Novartis (the sponsor) has decided to conclude this first phase trial by fall. Presumably, they will publish a write-up of what was learned from the 26 of us. The work goes on from here.
So, where do I go from here. I guess I could become a serial research trial volunteer. A clinical trial junkie. Or at 71 years old maybe I ought to grab on to the best proven option there is right now to restore hearing.
That would be a Cochlear Implant. It seems I am back to a hardware solution. A bionic man solution. That is the decision I have made. So now I go shopping for a CI as its called. For better or worse, it's a pretty small store. Only three companies manufacture an FDA approved device for Cochlear Implants. Cochlear America; MedEl; and Advanced Bionics.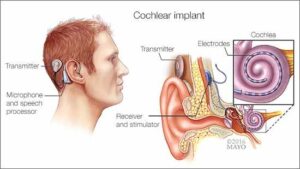 Basically, the source of information my brain receives as sound will be replaced. Instead of the tiny hair cells providing information, an electrode is inserted into the spiral of the Cochlea attached to a transmitter imbedded in the side of my skull.
An external sound processor, held in place by a magnet, sends electronic signals to the transmitter. The brain then has a new source of electrical information that it has to learn is "sound". What could go wrong with that? But it works…the brain does figure out what that new information is and learns to hear it. It's a process that takes months and continues to improve for years with work.
I'm told I'm a good candidate. I lost my hearing late in life; I still have residual hearing in one ear; I have been aggressive about mitigating the loss; I likely can remember music, which will help my brain to "learn" to hear music again.
At this point I have already taken a couple of long strides down this new path to acquire a Cochlear Implant.
Over the past year, I've had many trips to Kansas University Medical Center (KUMC). It started with my screening, then surgery, and follow up testing as part of the trial. As a result, I now know many members of the medical and administrative staff there. I have developed a lot of confidence in how that place is run and the skills of individuals that make it happen. For those reasons, and the fact that no one knows more about my health or the status and physical properties of my cochlea better than this team, I have decided that I want the implant done at KUMC.
The surgeon who designed and performed the gene therapy injection at KUMC was Dr Henrich Staecker and as noted in earlier entries, I was able to discuss and see in his lab the absolute cutting edge research being done. From the very beginning, I thought "these people may be able to restore my hearing." And it turns out they are. Just not how I originally thought. Dr Staecker has willingly suggested and agreed to do my Cochlear Implant.
I have picked my hardware. (MedEl)
Surgery is now scheduled for Oct 8th and my "Turn ON" date-(activation) will be Oct 31st. Exactly one year since the gene therapy surgery.
Note: more on the CI itself and some other new technology I am using is in the Hardware section of this blog.